Career Profile: Authorised Officer
View the PDF version of this fact sheet
Steer your career towards the rail industry with one of these rewarding possibilities.
---
What is an authorised officer?
The main role of authorised officers is to balance the responsibility of upholding transport laws with outstanding customer service. Primarily authorised officer carry out public transport checks, report ticketing offences and submit accurate and detailed reports.
They may be present on trains, trams and buses. You may also see them at stations and stops. They also carry out customer information duties at special events and during disruptions, as well as help create a safe and friendly environment for the public.
Authorised officers are there to help keep public transport running smoothly and make sure everyone is paying their way.
What might an authorised officer do?
Check tickets and concession entitlements are valid
Ask to take the customer ticket for use as evidence
Ask for customer details including name, address and proof of identity
Report the customer to the Department of Transport, if needed
Arrest the customer until police arrive, if the customer doesn't comply
Ensure everyone is paying their way
Provide evidence to any court or tribunal relevant to ticketing and behavioural offences
Who might it suit
These job roles best suit people who enjoy working outdoors and away from an office environment. A fair amount of standing on feet is required as part of the job. Teamwork and working with others is essential. Authorised Officers are expected to conduct themselves in a manner which shows respect for members of the public, are obliged to comply with operating procedures and policies of the transport company.
Excellent communication skills and leadership skills
High level of customer service skills including facing confrontational customers
Problem solving skills with commitment to finding a solution
Conflict resolution skills
Happy working in pairs, or as part of a team having a united sense of purpose
Remain calm under pressure when encountering frustrated customers
High level of physical fitness, to be able to physically restrain if required and to cope with carrying heavy equipment through the shift, eg. load bearing vest, portable myki reader
Where and when is the work?
The work is mostly outside, at train stations or at bus and tram stops, and on trains during the commute. The work involves working shifts on a rotating roster with evenings, weekends and public holidays.
What is the pay?
In 2020, the average authorised officer salary is $70,000, up to $101,000 for a team leader.
Career path opportunities
There are many career pathways available for rail customer service employees or roles in the operations area.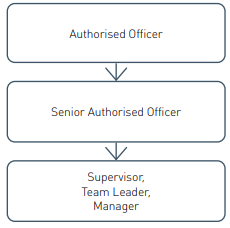 Contact us
If you have any questions or are interested in finding out more, please contact us:
Email address: railcareers@levelcrossings.vic.gov.au