Career Profile: Overhead Line Worker
View the PDF version of this fact sheet PDF, 445.6 KB
Steer your career towards the rail industry with one of these rewarding possibilities.
---
What is an overhead line worker?
Overhead line workers are electrically qualified to perform routine maintenance, renewals, reactive maintenance, system alterations, upgrades, new works and other tasks on the overhead network. This includes work conducted on high voltage and low voltage electrical apparatus, on alternative current and direct current electrical circuits flowing through the overhead network.
What might an overhead line worker do?
Erect, install, construct, maintain, repair electrical equipment and overhead lines
Undertake fault finding, diagnosis, repair and reporting
Perform live electrical work on the overhead network, including live electrical switching operations
Ensure the safety of all persons working near electrical assets
Operate specialised overhead cherry picker and drive elevated work platform vehicles
Who might it suit
A high level of safety awareness and role modelling of good safety behaviours, as will be working in live electrical environments
Someone with strong attention to detail and accuracy
Ability to work both independently and in a team environment
Understanding and proficiency of all types of traction overhead line construction and associated accessories, plant and equipment
Strong problem-solving skills
Good interpersonal, verbal and written communication and negotiation skills
Ability to read and interpret plans, specifications and other documents
Work well under pressure
Physically demanding
Prepared to work at heights
Embrace new technology and willing to learn new skill
Where and when is the work
Overhead line workers can work in both metropolitan and regional areas. They spend most of their time outdoors, working in different locations and different situations every day. Overhead line workers are often the first people to respond when severe weather conditions strike the network. They may need to work reasonable overtime as required and respond to after-hours emergencies as well as work shift work on a 24 hour, seven day a week roster.
What is the pay?
In 2020, the average overhead line worker salary for entry level positions starts at $80,000 per year while most experienced workers earn up to $112,000.
Career path opportunities
To pursue a career as an overhead line worker, it is a requirement to hold:
a Certificate III in ESI Power Systems (Rail Traction)
a current drivers' licence
a construction White Card,
a current Working Safely at Height statement of attainment
a current first aid statement of attainment
a sound knowledge and understanding of OHS legislation and application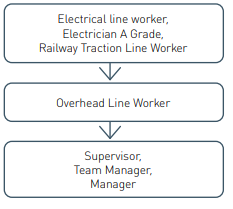 Contact us
If you have any questions or are interested in finding out more, please contact us:
Email address: railcareers@levelcrossings.vic.gov.au