Career Profile: Station Manager
View the PDF version of this fact sheet PDF, 155.6 KB
Steer your career towards the rail industry with one of these rewarding possibilities.
---
What is a rail station manager?
Railway station managers or Service Managers oversee organising tasks linked to the operation of train stations. Their tasks cover the organisation of the maintenance and repair works for buildings and interior equipment. They care for the comfort, service, safety and security of customers and other clients. Depending on the size of the station, the number of staff that railway station managers are directly responsible for can vary.
What might a station manager do?
Engage with rail stakeholders and maintain regular contact
Improve rail service delivery
Operate railway communication systems
Develop and maintain crew rosters
Effectively manage a team, supervise and motivate a group of people, to meet the expected results
Assist in managing customer movement between intersecting public transport services – buses, trams and taxis
Handle incidents
Handle customer complaints
Organise maintenance and repair works for buildings and facilities.
Ensure compliance with occupational health and safety regulations for staff and customers.
Maintain professional customer service standards
Effectively manage station and train accessibility, hygiene and cleanliness, safety, security and promotional collateral
Who might it suit
Station or Service Managers need a high level of experience in understanding customer needs, providing good quality service and measuring customer satisfaction. They need excellent people management skills including administering customer complaints and negative feedback. The role requires administration and business management skills; to lead, supervise and motivate team members, strategic planning and coordinating people and resources. Those with a strong attention to detail, a flexible can-do attitude and great communication skills will thrive. Frequent decision making and problem solving skills are a core of the role.
Great at planning and implementing new ways of improving train service delivery
Work independently and part of a team – working towards a common goal
Good at building rapport and relationships with customers
Resilient, flexible and adaptable, with administering complaints and negative feedback from customers
Possesses highly developed people management and leadership skills
Where and when is the work?
The station manager is responsible for the efficient and safe running of the station they are appointed to. Most work is full time with average hours per week around 40 to 44. The work involves working shifts on a rotating roster with evenings, weekends and public holidays.
What is the pay?
In 2020, the average station manager salary starts at. $79,000 up to $98,000.
Opportunities
There are many career pathways available for rail customer service employees or roles in the operations area.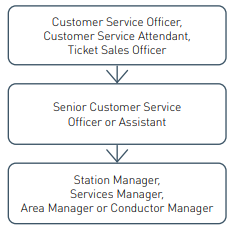 Contact us
If you have any questions or are interested in finding out more, please contact us:
Email address: railcareers@levelcrossings.vic.gov.au