Career Profile: Train Controller
View the PDF version of this fact sheet PDF, 276.3 KB
Steer your career towards the rail industry with one of these rewarding possibilities.
---
What is a train controller?
Train Controllers are responsible for the safe direction of all train movements, whilst providing the highest possible standard of "On Time" running for the passengers. A key component of the role is the ability to remain alert and apply multiple contingency plans at the same time when required.
A significant role of the Train controller is to respond to and oversee train service disruptions, mishaps, accidents and provide short notice contingency arrangements with the goal of safely restoring the degraded train services back to on time where possible.
The Train Controller is situated at Network Control Centre, these centres may be different depending on what company is operating the system Train controllers must be advised of train arrivals/departures, any accidents, failures or any other event affecting the regular movement of the rail traffic. The train controller will approve each movement and then is accurately carried out by station staff, train crews and signallers. The train controller must be notified before despatching trains from depot yards, junction stations or when freight trains enter controlled territory. All rail traffic control movements are directed and approved by the Train Controller.
What might a train controller do?
Safely directs movements of trains
Communicate with train drivers to ensure safe movement of trains
Communicate with signaller to carry out the action of alterations
Develop and record movements of trains on graphs and docking sheets
Authorise and control any activity taking place on railway tracks, including maintenance work
Liaise when appropriate with police, ambulance, MFB/CFA and emergency services in regard to accidents or disruptions involving the public or property
Rectify late running trains with minimum delay
Make suitable recommendations regarding alternative services during disruptions
Strive for on time running of rail movement
Operate a trunked radio system
Who might it suit
Train controllers may be required to sit or stand for extended periods, perform multiple tasks at once, be attentive at all times, will perform tasks reactively, be assertive with decisions made, able to think quickly, solutions focussed and have a systematic approach to problem solving.
About you
Ability to give clear and concise verbal directions
Ability to plan, program and direct operations staff
Analytical approach to problem solving
Work well under pressure and stressful situations
Quick decision-making processes
Demonstrate qualities of initiative and self-motivation
Accuracy when completing graphs and docking sheets
Ability to implement and communicate complicated contingency arrangements accurately in a high pressure and dynamic work environment
Where and when is the work?
They work in a centralised, 24-hour operation office with other Train Controllers and network services employees.
What is the pay?
In 2020, the average Train Controller salary is $122,000 and senior Network Controllers can earn an average of $180,000.
Career path opportunities
There are many career pathways available for Train Controllers.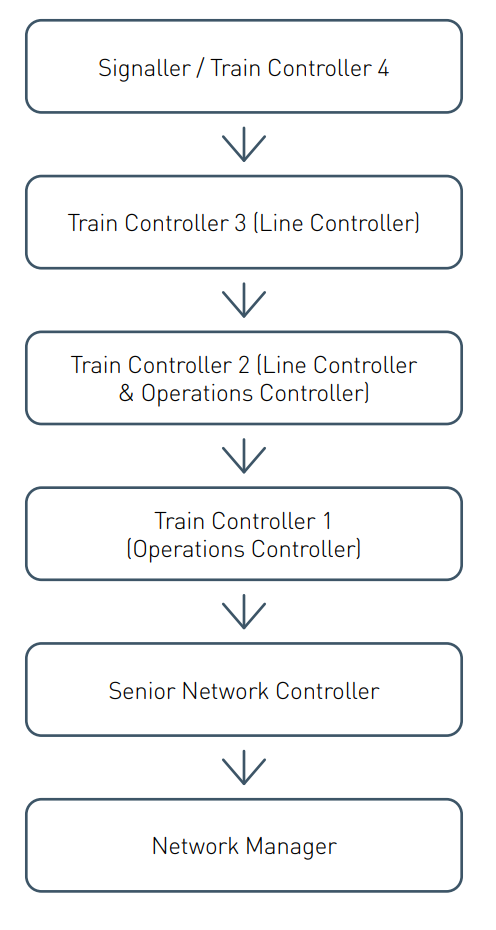 Contact us
If you have any questions or are interested in finding out more, please contact us:
Email address: railcareers@levelcrossings.vic.gov.au